Darba aizsardzības līdzekļi, to izvēle un pielietošana
Šis seminārs ierakstīts "Zoom" platformā ar "dzīvās" auditorijas piedalīšanos
Semināra ilgums: 03:26:57
Seminārs ierakstīts: 07.03.2023.
Pastāsti par lekciju arī citiem:
Seminārā apskatītās tēmas:
Normatīvie akti, kas nosaka aizsardzības līdzekļu izmantošanu.
Darba aizsardzības līdzekļu iedalījums, to standartizācijas prasības.
Kolektīvie aizsardzības līdzekļi, to izmantošana darba vides kaitīgā riska ietekmes mazināšanai.
Darba aizsardzības prasības, lietojot individuālos aizsardzības līdzekļus
Seminārā iegūsiet zināšanas un uzlabosiet izpratni par darbā lietojamiem aizsardzības līdzekļiem, nepieciešamo pārbaužu veikšanas kārtību un biežāk pieļautajām kļūdām.
Būvuzraugi, būvinženieri, projektētāji, montāžnieki, būvuzņēmēji, darba aizsardzības speciālisti, pašvaldību speciālisti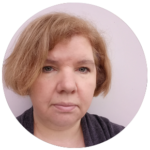 Apmācības vada Iveta Avotniece
Darba aizsardzības vecākā speciāliste, SIA "IVEG" valdes locekle. Darba aizsardzības speciālista pieredze kopš 2005.gada dažādos uzņēmumos un pedagoga pieredze mācību centā "Eva 97". No 2014.gadā pasniedzēja Daugavpils Būvniecības tehnikumā mācot priekšmetu Darba un vides aizsardzība. 2017.gadā iegūts maģistra grāds Darba aizsardzībā. No 2018.gada lektore Daugavpils universitātē pasniedzot "Ražošanas un tehnoloģiju drošība".